Plot1D
From SAXSutilities wiki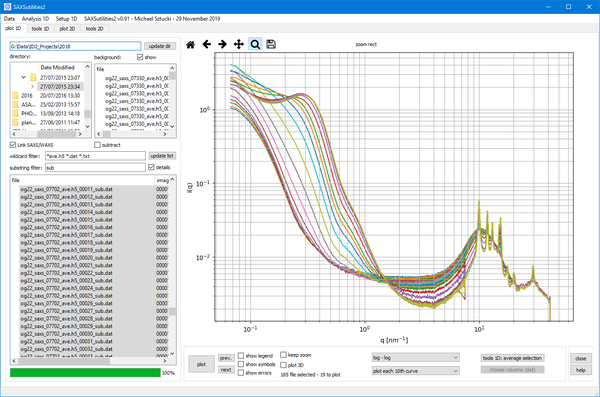 Program for plotting one-dimensional data in ASCII (general) or HDF5 format (ID02: ending on _ave.h5 or _xpcs.h5).
Features:
Multiple data sets can be selected and plotted.
Data sets recorded with two different detectors (SAXS/WAXS) can be plotted simultaneaously (distinguished by _saxs_, _waxs_ in the filename).
Optional background subtraction also of combined SAXS/WAXS data.
Two filters using (A) wildcards and (B) substring. (A) is applied only to the filenames, (B) also to available metadata. 'details' must be checked in this case.
The file list is not automatically updated - press 'update list' to refresh. However, metadata of files in the current directory are updated continuously in the background.
Different plot modes including 3D plotting of image series is available.
Slope determination and Guinier analyis is available from the menu.
Zooming, panning and saving of the graphs is possible by the buttons above the graph window.
Axis labels can be defined in the menu.
A button for averaging a list of plotted files has been added for convinience. It is not necessary any more to switch to tools1D.
For ASCII files it is possible to select the columns for q vector, data and error. It is also possible to plot multiple data columns using the same q vector (no error in this case).